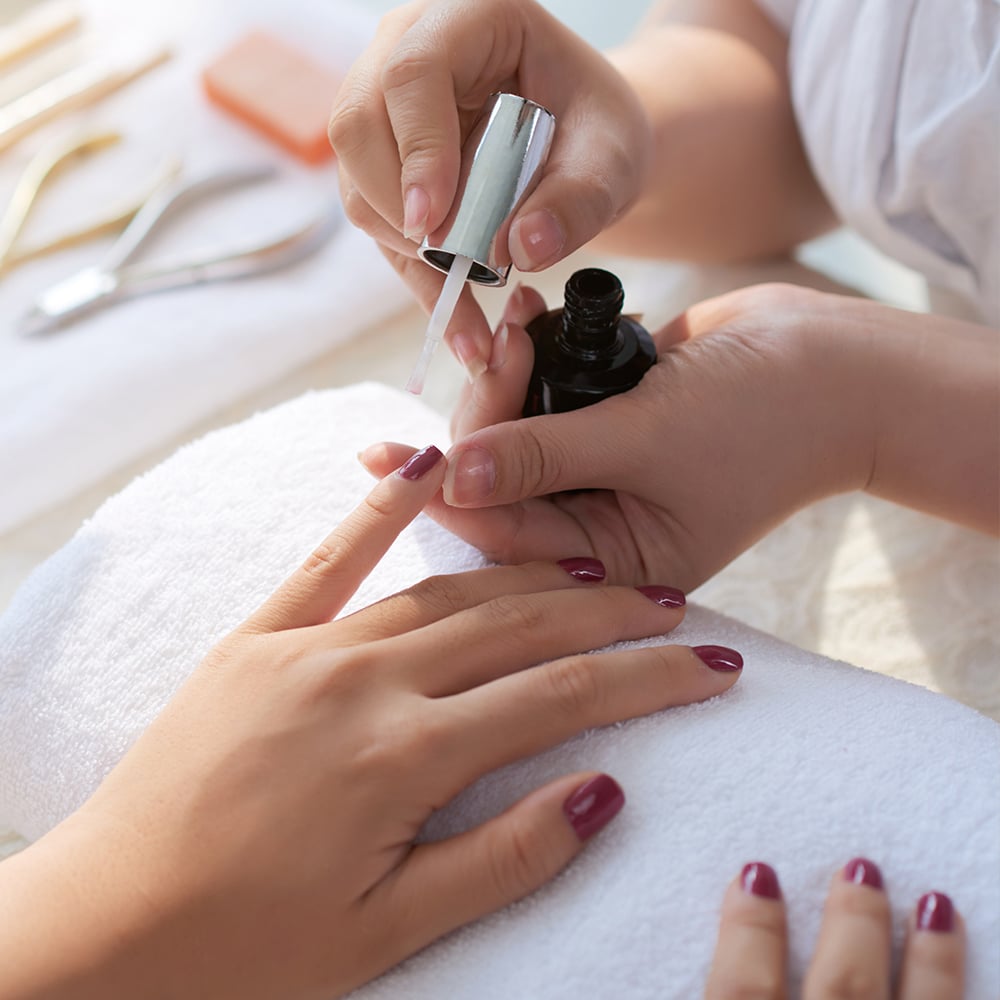 Relaxing Pedicures & Manicures in Valparaiso, IN
A professional manicure offers much more than just a coat of polish and some personal attention. At Fíka, our manis and pedis promote nail health, improve circulation, and ensure total relaxation. Escape from the hustle and bustle of your work week with a foot soak or paraffin wax treatment and leave feeling sophisticated and renewed, with a new set of nails. Reserve your appointment today.
Manicure Techniques
Take a break from your daily routine and enjoy an expert manicure. Whether you're in need of an acrylic nail fill, only have time for an express manicure, or want the works with our elite mani package, our licensed professionals can provide you with a soothing nail appointment every time. Choose a color, or colors, that best complement your personality and let us take care of the rest. We offer a warm coconut milk soak, sugar scrub, honey-infused hand mask, massage, and paraffin wax treatment.
The soak will provide nourishment for your hands to improve skin texture and act as a foundation for the sugar scrub, which will gently exfoliate dry skin and dead skin cells. Our honey-infused hand mask is chock-full of antioxidants to reduce the signs of aging. A hand massage will improve blood flow for radiance and health and with a paraffin wax treatment and polish of your choice, you'll be ready to face the world once more!
Pedicure Techniques
Treating your feet to a pedicure will help you feel refreshed and relaxed as your nail technician indulges you in a relaxing foot soak, lower leg massage, and pretty toenails. Cleansing dead skin and receiving a foot massage will improve blood flow, cell turnover, and your skin's natural radiance. With a moisturizing paraffin treatment to top it off, your skin will stay hydrated for the rest of the day.
We use fresh herbs and fruits in our pedicure bowls for a luxuriously aromatic and enriching experience. While a Classic Manicure offers a restorative experience and lovely nails, for more enhanced indulgence try any of our other elite pedicures. All elite pedicures include polish removal, cutting, shaping, cuticle care, callus removal, foot scrub, massage, paraffin, and regular polish as well as a beverage of choice. We offer tea, water, and mimosas. Let us pamper you the way you deserve—call Fíka today to book your appointment.
Mani Pedi FAQs
Regular manicures and pedicures can lead to improved joint mobility, better circulation, and healthier nail beds. This is largely in part due to the benefits of receiving a gentle massage during a manicure or pedicure, which loosens stressed muscles and joints and improves our natural healing processes. You'll also notice your nails growing back stronger than before, cuticles won't return as quickly, and hangnails won't be as prevalent. At Fíka, we take these benefits to the next level with the vitamin-rich restorative products we use.
Yes! We offer both acrylic and gel manicures as well as acrylic fills and acrylic soak-offs. See our menu below for more information.
Acrylic nails are composed of a liquid monomer and a powder polymer that form a paste that quickly bonds to the natural nail. These customizable nails are a perfect option for those with weak natural nails or individuals who want to add significant length and unique shape to their nails. An acrylic set will often last for several weeks depending on your day-to-day activities and can easily be filled during your next appointment.
Gel polish is used just like regular nail polish, but it is sturdier, glossier, and self-leveling. It's also easier to apply because it dries quickly and safely with UV light—no waiting around or realizing hours later that you've smeared enamel. Gel can be applied to natural nails, extensions, and on top of acrylic.
Whether you choose acrylic over gel or enamel polish is simply a matter of preference and often depends on how you use your hands on a daily basis. Our nail consultants can help you decide what look you want to go for.
Our Manicures & Pedicures
This treatment includes a warm foot soak and scrub followed by clipping and shaping of the nails, a short foot and calf massage, and nail polish (if desired).
This stress-relieving pedicure begins with lavender aroma and a heated neck wrap to relax your shoulders. Feel the fatigue of your achy feet and calves melt away with our warm oil massage followed by a paraffin treatment.
Mandarin/Honey Pedicure
$68
This pedicure revitalizes your skin, offers the ultimate hydration, and stimulates your senses. A luxurious sugar scrub gently exfoliates your skin, preparing it for the rich hydrating effects of the mandarin and honey mask while hot stones dissolve muscular tension.
Fight off gloominess and anxiety as you restore your skin with our cactus-infused foot soak. This treatment is rich in vitamin E and fatty acids which makes your skin glow like never before. Your mind will slip deep into relaxation through customized guided meditation via a headset.
This signature blend of lemongrass and ginger is loaded with antioxidants to help boost your immune system. This blend can offer a sense of clarity, elevate your mood, purify your skin, increase circulation, and reduce inflammation, leaving you feeling restored and energized.
"It's That Time" Pedicure
$60
PMS and menopause often create symptoms of depression, fatigue, headaches, anxiety, and mood swings. This pedicure helps provide relief from an aching body, promotes good sleep, and alleviates the symptoms of PMS with heat and foot reflexology techniques.
For a fast, simple manicure with no fuss and frills choose our express manicure and continue about your day with an elegant new set of nails.
For a manicure that lasts longer and achieves a beautiful shine, try a gel manicure created by our in-house nail artists.
Our nail artists create beautiful, stylish acrylic nails that add strength and length to your natural nails. Our acrylic sets start at $55.
When you need a top-up to refresh your manicure, our nail technicians provide expert fill services. Our acrylic fills start at $45.
If you want to remove your acrylic set, our simple and thorough soak-off will do the trick in no time—it's a quick and pain-free process!
A long-lasting, no-chip finish keeps your manicure looking beautiful and refined for more durable extended wear.
Paraffin wax treatments restore your skin and joints with moist heat that makes skin soft, alleviates joint stiffness, and continues to moisturize even after removal.