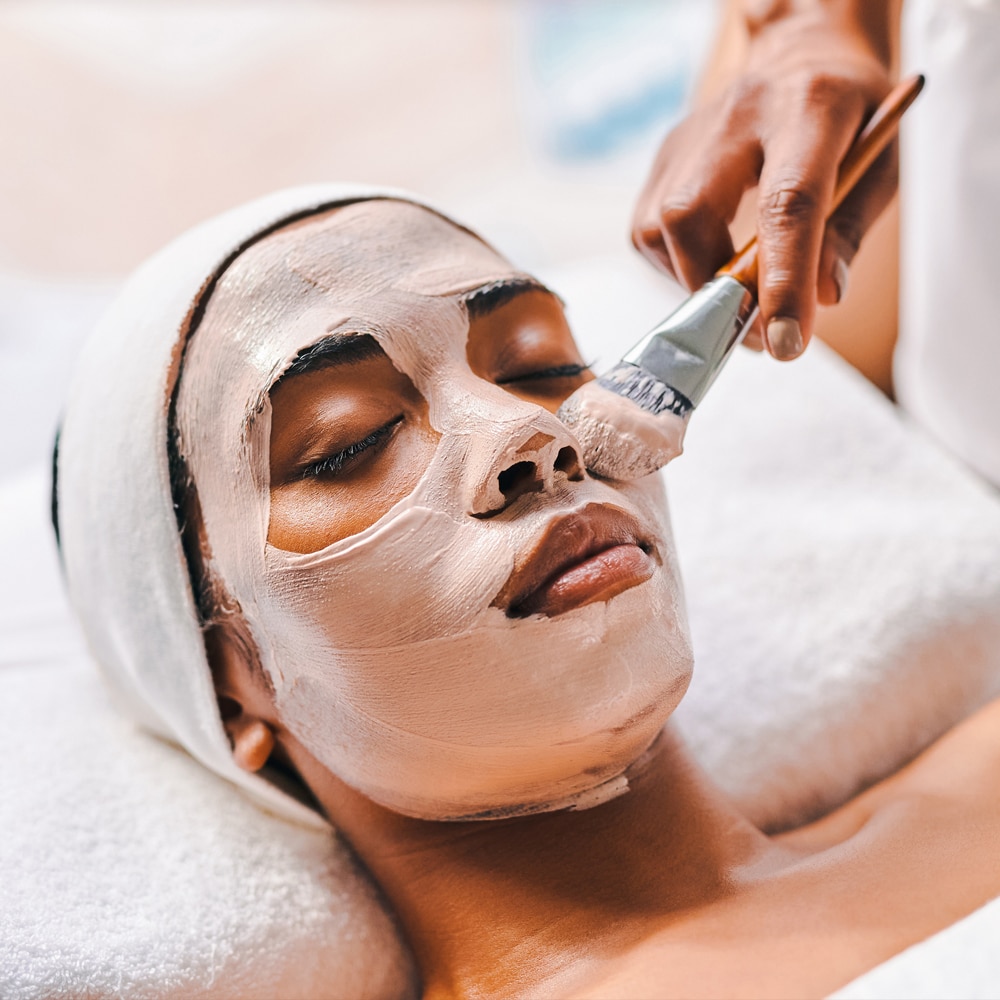 Nourish, Hydrate, and Cleanse with Facials in Valparaiso, IN
At Fíka, our facials are designed for your total relaxation and rejuvenation. Our facial beds have 3-inch foam mattresses and bed warmers for the ultimate comfort and we use ingredients and techniques that are proven to promote your skin's greatest wellness. For some treatments, we offer the additional benefit of holistic methods by incorporating healing crystals, therapeutic aromas, and upper body massages to help you fully unwind and heal. See our menu and treatment options below.
Our Signature Facials
Wake-Up Facial
60 min, $100
Jumpstart your morning with this versatile and dynamic antioxidant facial to refresh, hydrate, and perk up tired dull skin. Facial cupping and cold therapy tools are used for stimulating circulation, sculpting the face, and reducing inflammation, redness, and puffiness.
Vitamin C Facial
75 min, $120
This rejuvenating facial tightens and illuminates the skin, visibly reducing fine lines and wrinkles. A cocktail of Vitamin C and brightening serums are nano-infused deep into the skin for optimal restoration, followed by a Vitamin C face mask to rejuvenate and tighten aging skin.
Butterfly Facial
90 min, $145
For a true transformation, this treatment restores depleted collagen and enhances luminosity using special techniques and powerful anti-aging ingredients. Facial cupping and microcurrent are incorporated to help lift and tighten the muscles, for smoother, rejuvenated skin.
This Chinese herbal facial is designed to help withstand stress and maintain skin's softness, brilliance, and spotless skin appearance. Anti-oxidant rich herbs oxygenate skin cells and delivers immediate hydrating, toning, and smoothing results. Following this, crystals with powerful healing + balancing qualities are thoughtfully placed on certain areas of the face to adjust the vitality levels + help you unwind + heal. Deep breathing exercise and palo santo are introduced to calm the mind.
This treatment is designed for those with acne-prone skin and problems like cystic acne, oily skin, or dead skin cells that might be clogging up your pores. Two personalized treatments are performed, killing acne-causing bacteria and preventing future breakouts.
Dermaplaning Facial
75 min, $120
You will see and feel dramatic results instantly in the texture and tone of your skin. If appropriate, an enzyme is applied thereafter for deeper exfoliation, followed by a customized mask.
Express Facial
30 min, $55
This quick facial is great when you're pressed for time, but need to rejuvenate your skin. You'll feel fresh and clean, fast. Extractions are not available with this treatment.
Express Dermaplaning
30 min, $50
Remove unwanted peach fuzz, exfoliate away dead skin cells, and receive a custom facial treatment tailored to your needs and biggest skin concerns—all in under an hour! Moisturizer, serums, and sunblock put the finishing touches on this fantastic facial.
Skin Renewal Peel
120 min, $800
Suitable for all skin types, this peel uses the finest medical-grade ingredients in a sophisticated formula to promote rapid cell turnover by cleansing and stimulating regrowth. Many skin layers are rejuvenated and thickened by the reaction triggered during the peeling.
Plasma Fibroblast
60 min, $100
Plasma Skin Tightening is a revolutionary, non-invasive alternative treatment to traditional surgery. The treatment helps eliminate excessive tissue that causes sagging skin, unwanted wrinkles, and stretch marks, and even diminishes scarring.
Deep Pore Cleansing
60 min, $100
The perfect facial for those with mild acne and blackheads. This facial focuses on extractions, a bit of exfoliation, and a deep cleanse, which is NOT suitable for sensitive skin due to its slightly abrasive nature. Reduce the overproduction of oil and leave your skin feeling matte and oil-free.
Quench Facial
75 min, $125
This hydrating facial immediately nourishes the skin, relieving tightness, itching, and the appearance of fine lines. Moisture is locked in using a Hydrojelly mask or a collagen mask creating a vacuum suction effect to quench, soothe, and restore glow.